We are very fortunate in Shetland to have a wildlife sanctuary that rescues and rehabilitates sick, injured and abandoned seals and otters.
The 1700 mile long coastline of Shetland is one of the most important habitats in the UK for these animals and also a great place to see whales and dolphins in their natural habitat. The sanctuary also helps co-ordinate a network of volunteers to rescue whales, dolphins and porpoises that occasionally become stranded or entangled.
The Hillswick Wildlife Sanctuary opened in 1987 and since then has successfully rescued hundreds of animals and released them back into the wild.
It all started when Jan Bevington found an orphaned common seal pup on the beach outside her home. She took it in until it was strong enough to be returned to the sea.
The sanctuary is based in a historic building on the waterfront of the village of Hillswick in Shetland's north west mainland. The buildings were a Hanseatic trading post in the 1600's and extended in the 1800's to employ over 100 people in fishing, livestock and knitwear. In more recent years it has been a pub and a vegetarian café. Future plans include and education and cultural centre celebrating Shetland's extraordinary marine environment.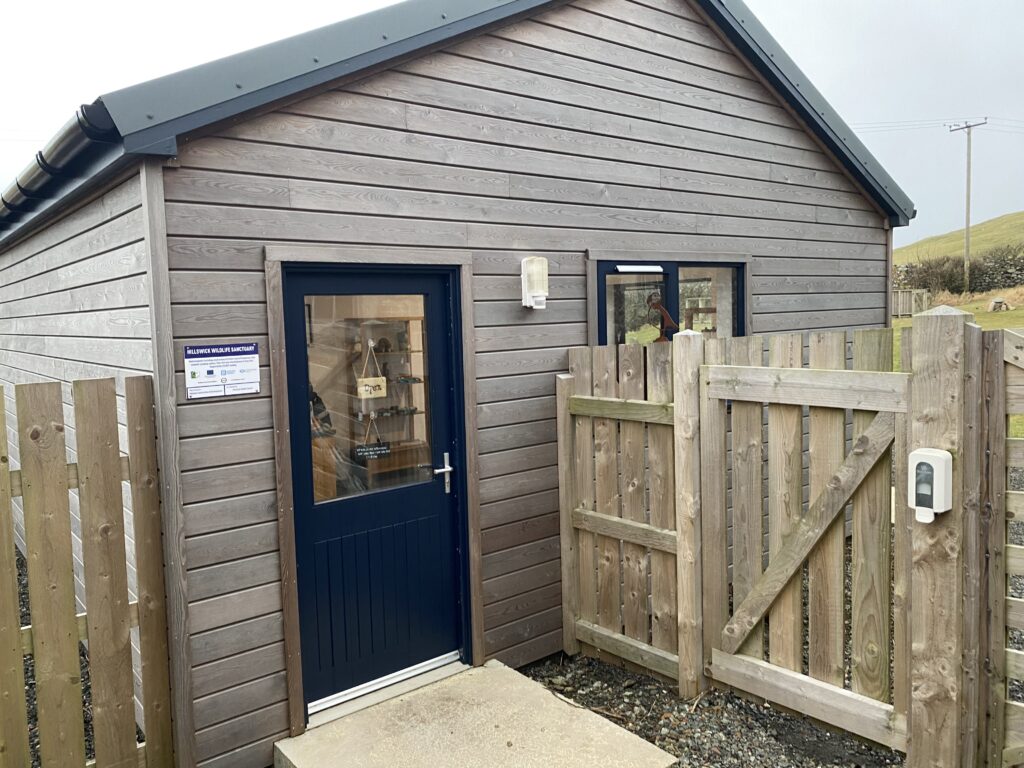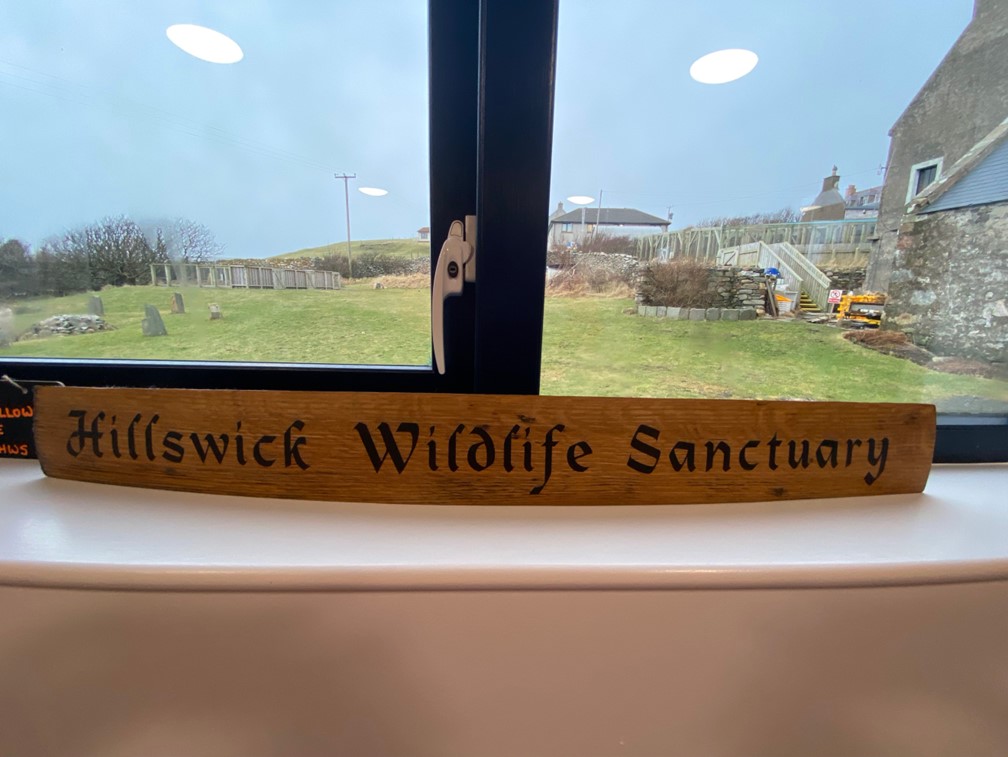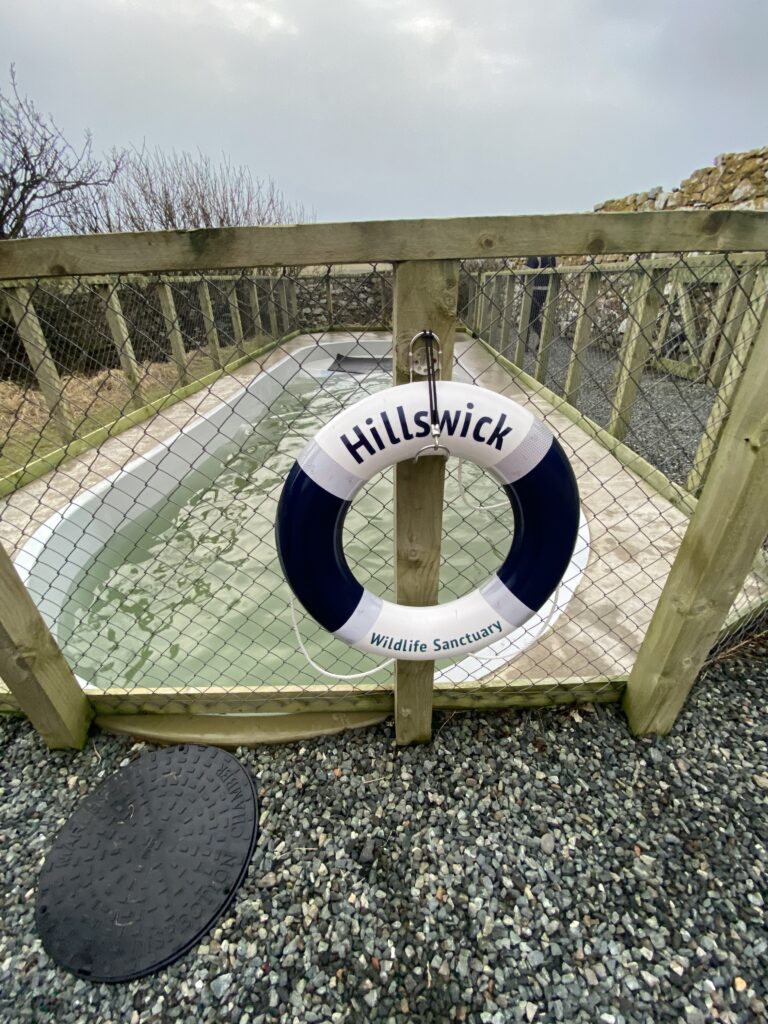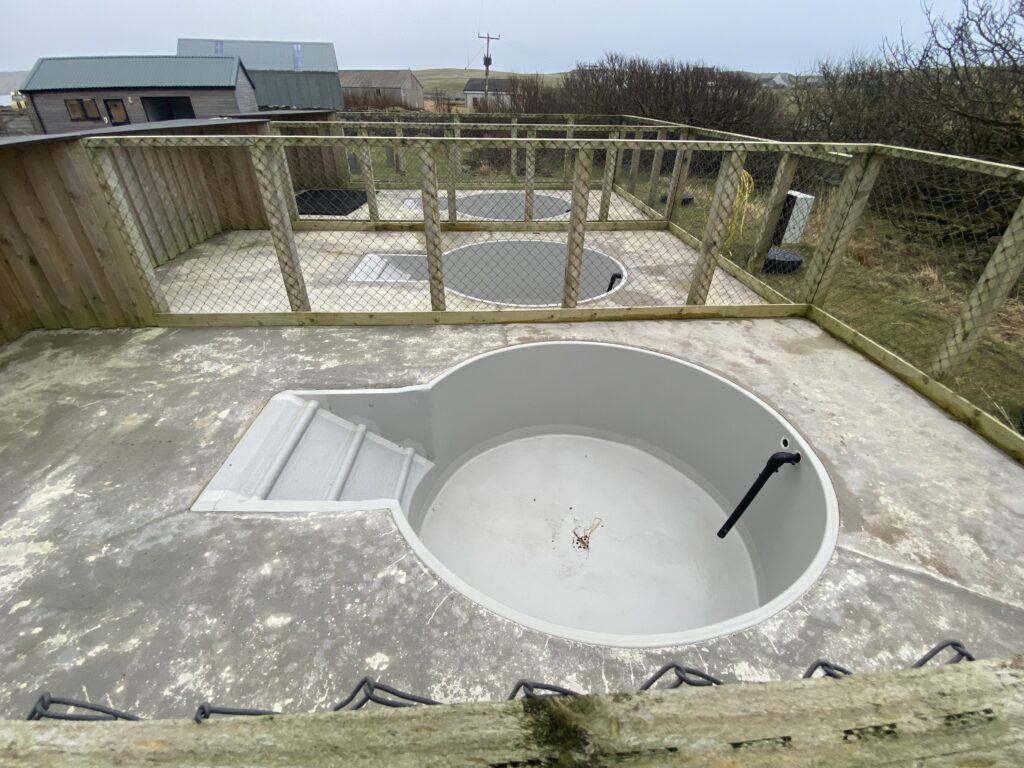 In 2021 the facility has been upgraded with new pools and enclosures and a direct pipeline to the sea so that the pools water can be changed on a daily basis. Grant funding was obtained from the Shetland Islands Council and the local oil industry after years of campaigning by Jan and Pete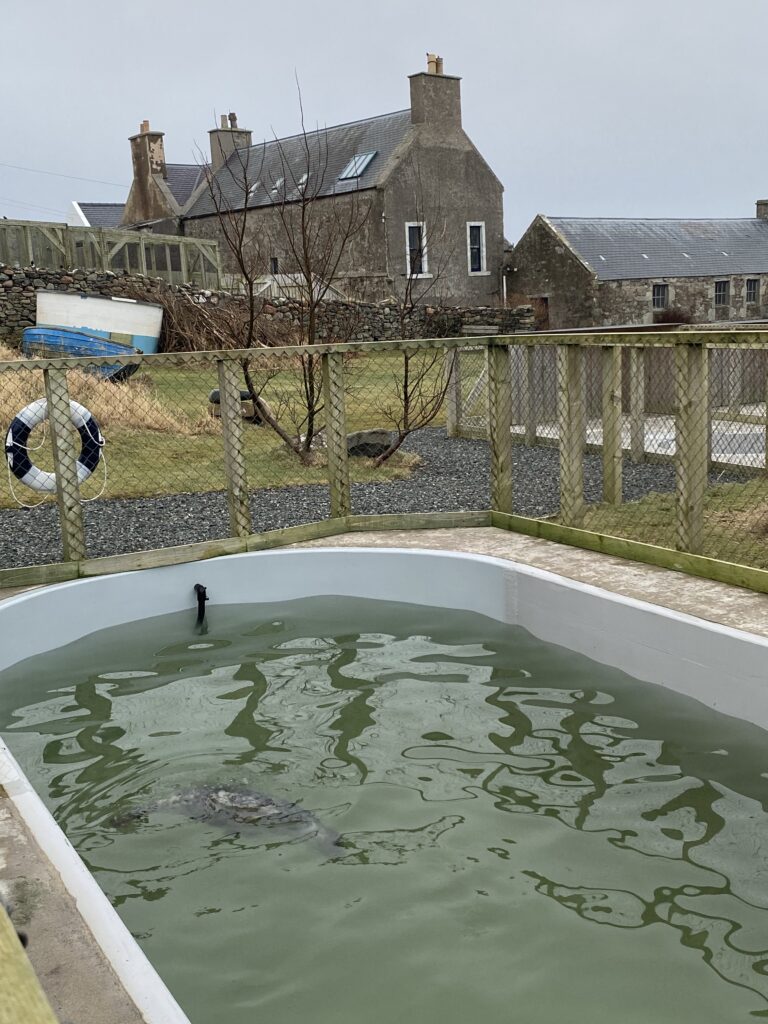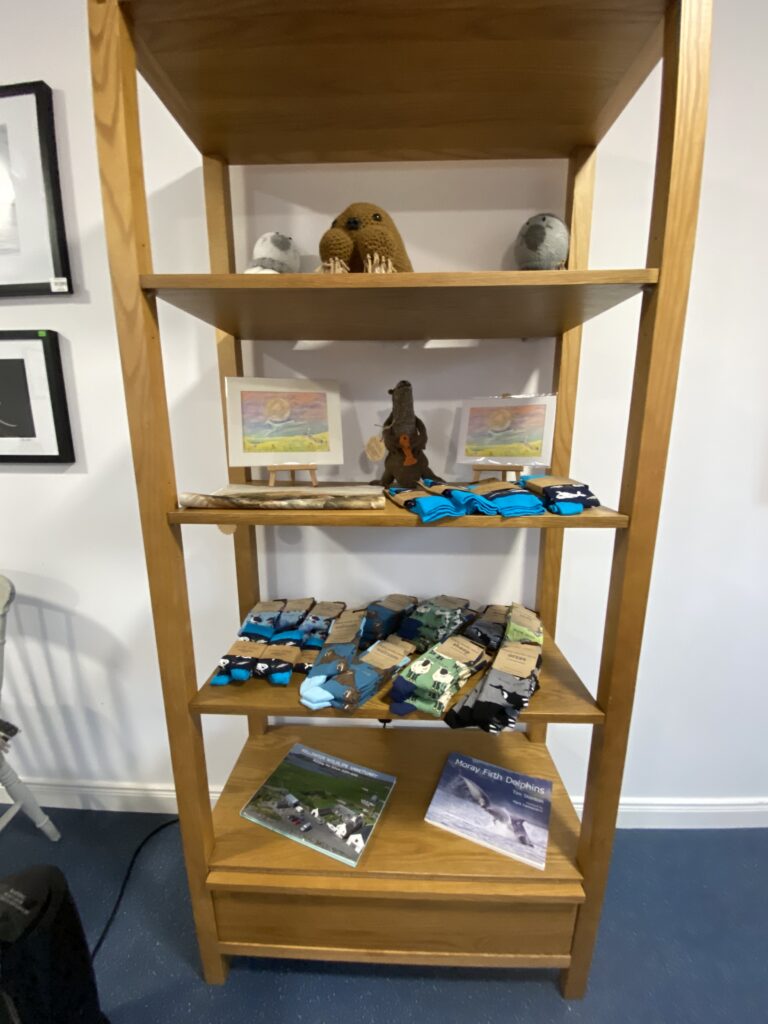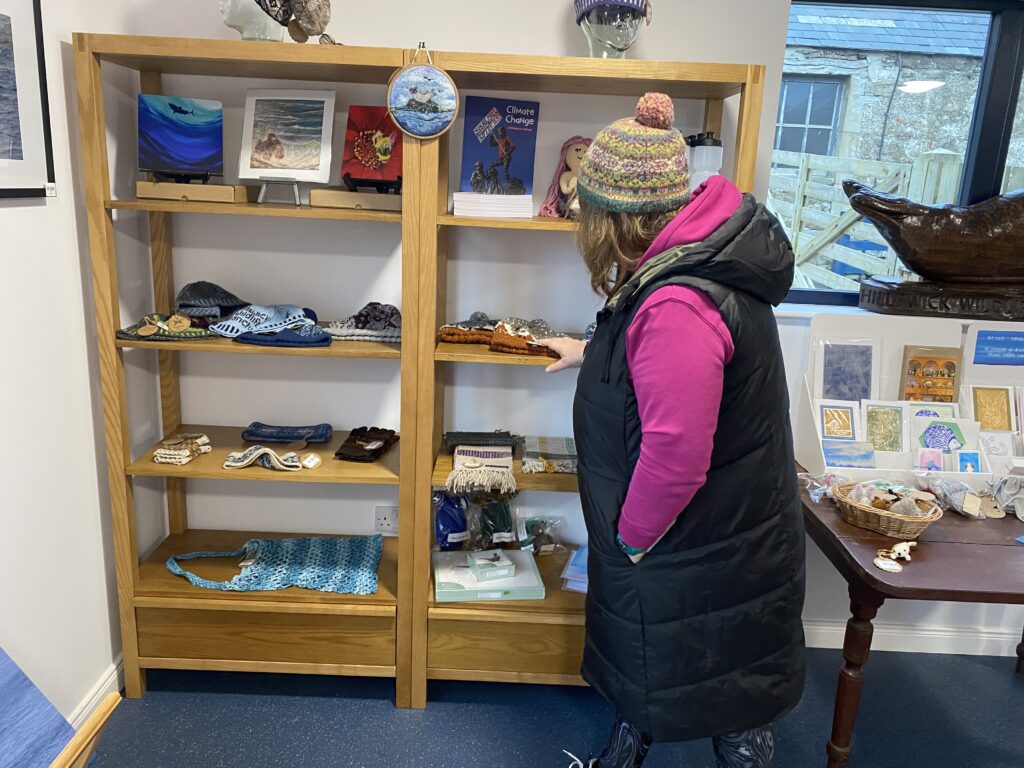 Richard one of the volunteers very kindly showed us around on a beautiful February afternoon. Jan Bevington tells me that Richard and Alison are more than volunteers "They put their heart and soul into the sanctuary and volunteer many hours every single week".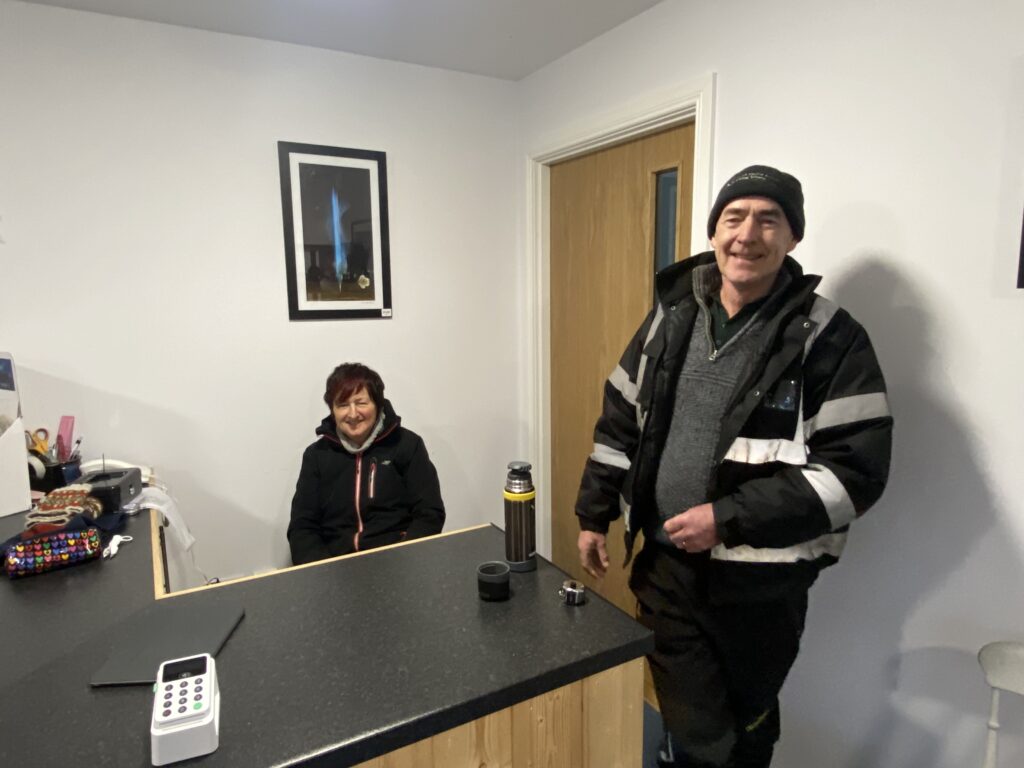 Currently there are two grey seal pups in residence named Nutmeg and Dancer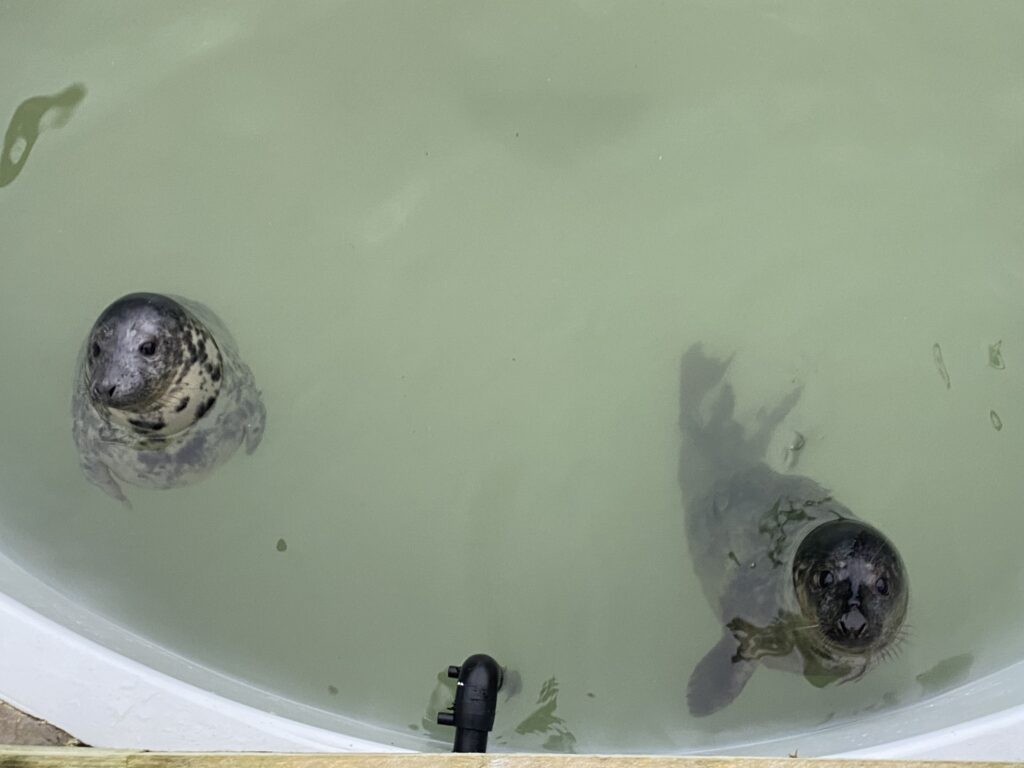 Dancer was found on a beach in the south of Shetland on 19th December when he was about 6 weeks old. Staff could determine his age due to the fact he was almost fully moulted.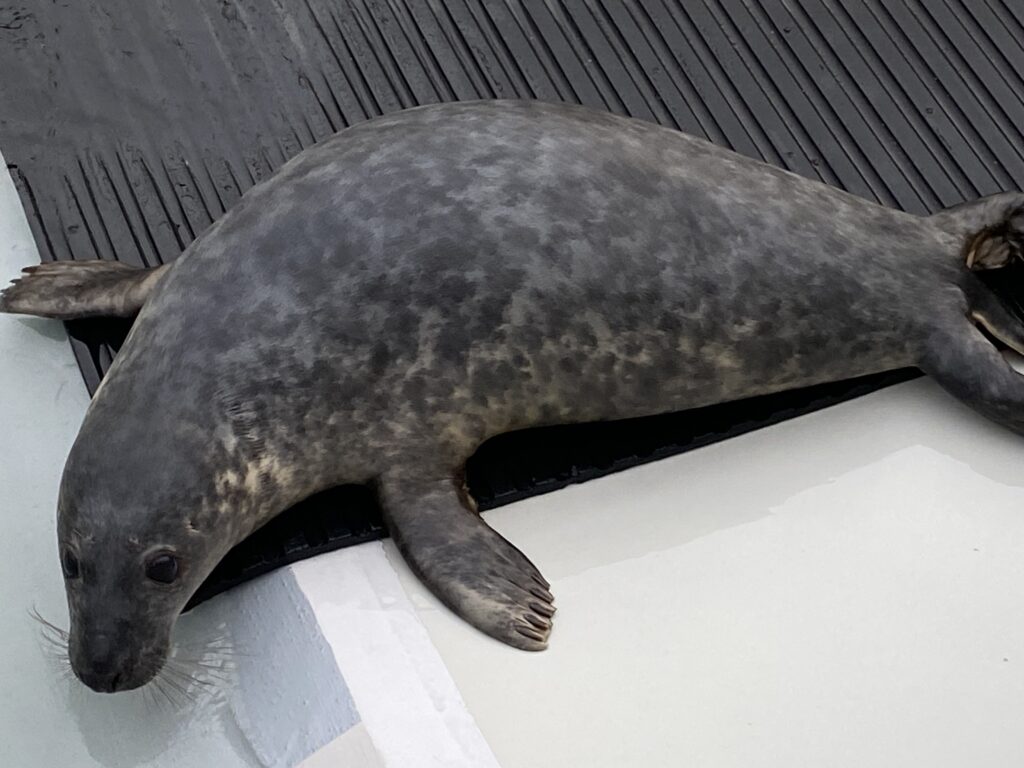 Nutmeg was found on 26th December on another beach in the south of Shetland, fully moulted, but thin and exhausted.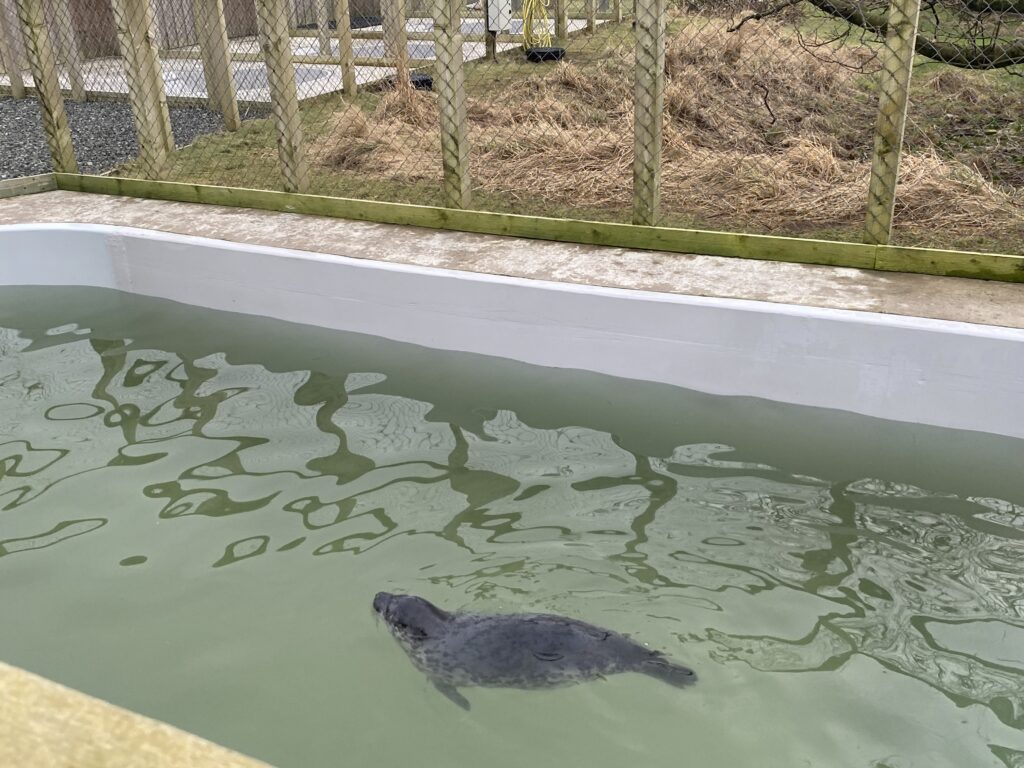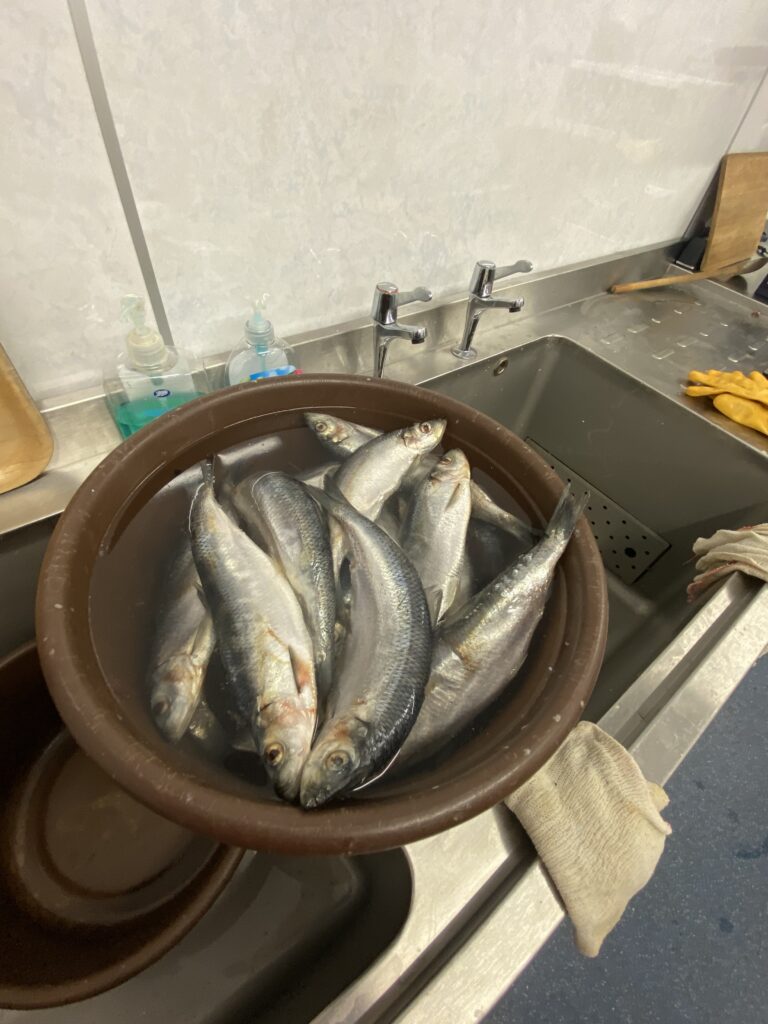 Shetland has around 3000 grey seals that pup in November on remote beaches during the stormy winter weather. When they are three weeks old they are left to moult their white coats and fend for themselves. Occasionally severe storms hit the Shetland islands at this time of year and the pups can become exhausted and unable to feed. Sometimes young ones, still with their white coat can become separated from their mother as they do not have the strength to battle the stormy seas. This is where the Hillswick Wildlife Sanctuary steps in and rescues the poor creatures.
Shetland is also home to around 1500 common seals which pup around May/June. A great vantage point to see them from a safe distance is from the roadside above Rerwick beach in the south mainland.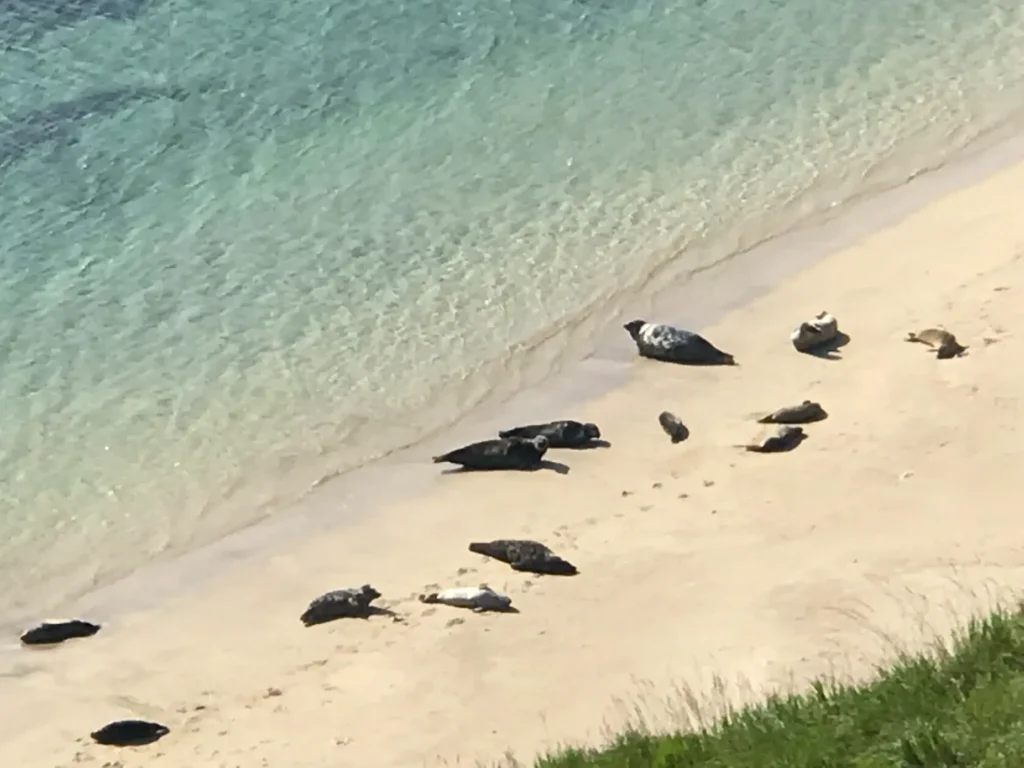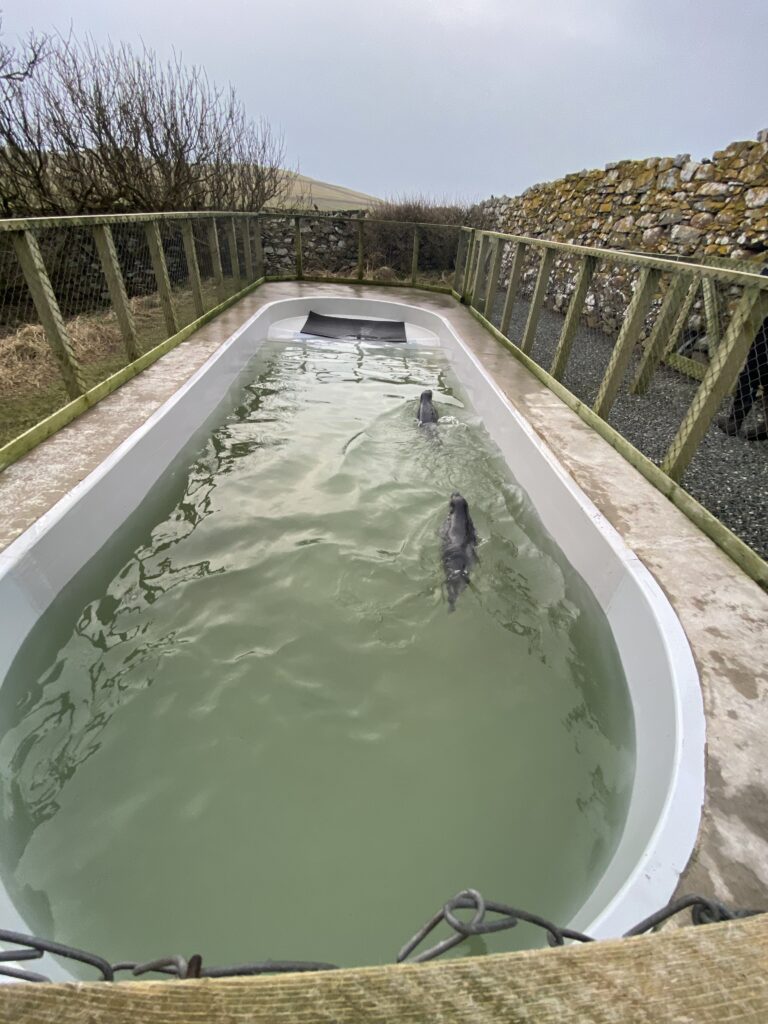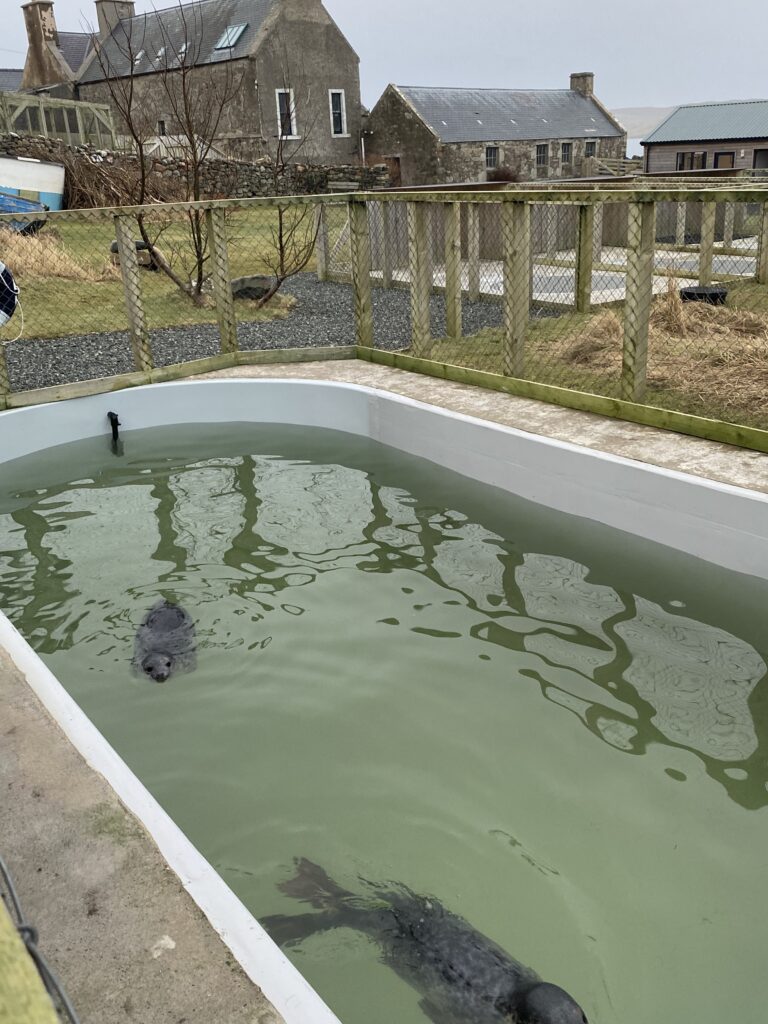 I am delighted to say that Dancer and Nutmeg were released on 12th February 2023 after almost 8 weeks of being well looked after and fed fresh pelagic fish like herring and mackerel twice daily.
Jan & Pete closely follow the weather forecasts and will only release the seals back to the wild when there is a period of good weather. Although the seals are now fit and well, they are still pups and winds of force 5 and above would be too much for them to cope with, so it is imperative to watch the weather in order to give these young seals the best chance of survival on release.
Jan is keen to stress that we must remember that these are wild animals and with this in mind, large groups are not allowed to visit due to the potential to cause stress to the animals. Visits are by appointment only for most of the year. There are some limited open hours in the summer, although it is still recommended to give a quick call if you intend to visit.
The sanctuary also rescues otters, but the public are not allowed to see them because they are susceptible to too much human interaction. If they were exposed to too many people during their rehabilitation then they would approach humans when released back into the wild. Shetland has, most probably, the UK's most important otter population numbering around 500 individuals.
Marine mammals do not travel well outside their natural environment and are very prone to stress and would not survive a 14 hour journey to the Scottish mainland and so it is fortunate we have such a wonderful facility based here in the isles.
The amount of work that goes into the care of these animals is astounding and the sanctuary depends on donations to keep it operational.
And so the fantastic work goes on, because en route to release Nutmeg & Dancer the phone rang with another seal in need of assistance. Young 'Ollie' was only a few weeks old and found on the island of Yell reachable by inter-island ferry only. The team raced there after the release and caught Ollie and brought him back to the safety of the sanctuary. Follow Ollie's story and latest news on Facebook @HillswickWildlifeSanctuary.
If you would like to help then you can donate at www.hillswickwildlifesanctuary.org/donate
Contact details:
Hillswick Wildlife Sanctuary, Hillswick, Shetland, ZE2 9RW.
Tel: (+44) 01806 503348 Mob: 0777 6046454
Web: www.hillswickwildlifesanctuary.org
Email: [email protected]
Twitter: @wildathillswick
Facebook @HillswickWildlifeSanctuary
If you would like to visit then I would be delighted to take you along as part of a tour of the rugged and beautiful north mainland of Shetland. Message me on [email protected] to plan your trip.